Corporate Events and Team Building Activities 2020

Mark's team is both hard-working and exceptionally experienced; however, after months of working from home due to the pandemic, its performance has been "hit and miss."
His team appears to have lost much of its motivation and energy. Mark like any good leader can't stand watching his team go down such a downhill path and wants to get his people back on track by exploring some effective and safe team building activities.
If you find yourself in Mark's shoes, then we're here to help. We specialize in bike rides/ tours and team events. We have a large fleet of electric bikes as well as high-end road bikes that give you ample options when planning out your event.
Although we are headquartered in Dana Point, CA, we are capable of delivering bikes and tours to nearly all across Southern California.
We typically hold events and team building activities near scenic places where most people enjoy spending time.
Our staff are fully trained, professional, and certified trainers. This allows you to book an event or activity and allow the rest of the planning to be taken care of by us.
Our activities are all about providing the skills, training, and resources that your people need so that they can work in harmony with maximum productivity.
We offer one of the most unique corporate events and team building activities that Southern California has to offer.
Our guided bike tours are perfect for rewards programs, an add-on to conventions and meetings and it will help support a healthy and green lifestyle program at your company.
For corporate events, please choose from one of our well-established tours, or let us customize a tour to meet your goals and needs!
Call us today for more information, and to plan your next great company event at (949) 484-6409.
Here's all that you need to know about planning an event through us:
1. Equipment:
We provide bottled water, helmets, as well as top-of-the-line road bikes, electric bikes, or a combination of the two depending on your preference.
We are fully capable of delivering our bikes to a designated location where your team can be fitted with bikes and helmets to allow for an enjoyable ride. Prior to every tour, we give an overview of our riding protocol, rules, and safety guidelines.

2. Tours:
Our team building events are customized to fit your team's needs and the overall fitness level of your group. We provide a fully loaded on-road support vehicle at all times.
Be sure to give us a call to get more information about the customization process and cost.
3. Tour Guides:
Every one of our tour guides is certified in Bicycle Safety training and he/she delivers their unique yet professional personality to the event.
4. Participants:
Tour events can be planned for as low as 3 to as many as 30 people and each ride consists of a bike tour guide.
Treat your team to a beautiful and sunny team building bike tour in Southern California that they'll have a hard time forgetting. Our personnel are never short of helpful, flexible and eager to please. Please check out our stellar TripAdvisor, Yelp, and Google Ratings and Reviews.
We have partnered up with Via Seminars!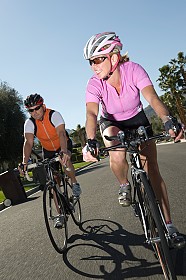 We will be putting our skills at organizing group and corporate events to work in a new and exciting way.
Via Seminars offers a unique take on marriage seminars, offering an amazing vacation in the world's most beautiful places combined with intense couples workshops. Based upon issues they saw in their friends' marriages, as well as their own, Iliana (Berezovsky) Glovinsky, MFT, a licensed marriage and family therapist, and her husband, Eli Glovinsky, sought ways to improve and strengthen their own marriage. They ultimately decided to confront the issues in their marriage, taking time off from their careers, traveling and re-learning how to reconnect with each other. It was from this experience that the idea of Via Seminars was born. They want to help couples to reignite the love, friendship, closeness, passion and intimacy in their relationships.
In early June, Via Seminars will be holding their first marriage seminar experience in San Diego. During their stay, couples will be staying in beautiful Coronado at the Loews Coronado Bay Resort. Over the course of 6 days, couples will experience a unique combination of a resort stay in one of California's most beautiful cities, along with a cycling getaway, and Via Seminars marital workshops.
Synaptic Cycles will be responsible for planning and implementing the 5 days of riding. The first day will involve a shake-down ride to dial-in bike fit while we make our way to the Coronado Ferry Terminal and back. Day 2 will feature a ride to the Cabrillo National Monument in Point Loma, with an incredible 360 degree view of San Diego. Days 3-5 will take us on some challenging rides in the North and East County areas of San Diego. During these rides, you will get a taste of just about everything San Diego County has to offer, from incredible coastal views to desert vistas. In all, we will likely cover 150-200 miles over the course of the week, should you choose to ride every day.
This promises to be an incredible experience for couples that take part. We look forward to providing the best possible cycling experience for the couples during their stay!
Occasionally, we are hired to provide services for group and corporate events. Last week we provided bicycle rentals at a conference at the Ritz Carlton in Laguna Niguel. United Parcel Service wanted to have bicycles available to attendees and their families. We were contacted somewhat out of the blue and a little late in the game, but we were able to pull together the amount of bikes and get everything together on time for the event.
These kinds of events are the sort of thing we can easily do. There are a large number of places that rent bicycles, but many of them are tied to a shop. Our business is inherently mobile. We don't have a brick and mortar shop that people come to in order to rent bikes. We bring the bicycles directly to you. And if we can bring one, we can certainly bring more.
We specialize in high-end road bicycle rentals, but on fairly short notice, we can obtain other types of bikes. For the event at the Ritz Carlton, we brought road bikes, city bikes, and beach cruisers. We also provided helmets to everyone that rode.
In addition to providing the bikes, we have the ability to bring an experienced bicycle mechanic that has worked many years in bicycle shops in Southern California, but has also served as a support mechanic during races and charity bicycle events. We have no problems throwing a bike on the workstand and getting it back up and running, and if needed, we will set up a bike on a stationary trainer and make sure that the bike fit is adjusted for you.
We haven't advertised these services much, but we really should. These events are a lot of fun and allow us to meet great people and get them out on bicycles. We don't want to limit ourselves to conferences, though. If you want to plan a corporate team-building event, we can do that. If you want to plan a small group tour, we can do that. We have the ability to provide many bikes in a variety of sizes and we can provide the type of support that your group or company desires.
Let us help you plan your event. We can provide the bicycles, the fitting and mechanical expertise, as well as the basic support for your event. We will even provide rolling support or tour leaders should your event require it.
Please, call us at (949)374-6079 for pricing. We evaluate your needs and provide pricing based upon the bicycles and services you will require for the event.