There are great road bike rides throughout Orange County that have incredible views of the ocean. The Newport Coast sits along the coastline of Southern California, tucked between Laguna Beach and Corona Del Mar. There are few places along the coast that enjoy such a beautiful view of the California coastline. Given the setting, it's not difficult to see why it would be a local favorite for road cyclists. Here we list a few great Orange County road bike rides near Newport Coast.

The one difficulty with riding in this area is that riding along the PCH to the north takes you through Corona Del Mar, while riding to the south takes you through Laguna Beach. Both of these coastal towns are wonderful places to visit, but riding a bicycle through them can be a bit frightening, especially for those not accustomed to
riding in higher traffic areas with little or no shoulder or bike lane. Your best bet if you want to ride the coast road is to get out early during lower traffic times.
Fortunately, there are other options for those staying in one the resorts in the Newport Coast area. Many of these options offer road cyclists a nice variety of terrain, with nicely paved roads and terrific scenery. We are starting to compile some routes for those staying in the area and we will be sharing links to route sheets on this page as we move forward.
Here's a few great road bike rides in the Newport Coast ares (all start from Newport Coast and avoid the higher traffic areas of the PCH):
Quick Hill Workout-A 7.2 mile loop with almost 1500 ft of climbing!
Laguna Beach/Dana Point/Lake Forest Loop-44 mile tour of some of Orange Counties nicest areas.
Corona Del Mar/Irvine/Laguna Beach Loop-32 mile ride with varied terrain.
If looking for Orange County's number one road bike rental service, give us a call today!
We have partnered up with Via Seminars!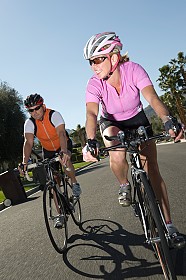 We will be putting our skills at organizing group and corporate events to work in a new and exciting way.
Via Seminars offers a unique take on marriage seminars, offering an amazing vacation in the world's most beautiful places combined with intense couples workshops. Based upon issues they saw in their friends' marriages, as well as their own, Iliana (Berezovsky) Glovinsky, MFT, a licensed marriage and family therapist, and her husband, Eli Glovinsky, sought ways to improve and strengthen their own marriage. They ultimately decided to confront the issues in their marriage, taking time off from their careers, traveling and re-learning how to reconnect with each other. It was from this experience that the idea of Via Seminars was born. They want to help couples to reignite the love, friendship, closeness, passion and intimacy in their relationships.
In early June, Via Seminars will be holding their first marriage seminar experience in San Diego. During their stay, couples will be staying in beautiful Coronado at the Loews Coronado Bay Resort. Over the course of 6 days, couples will experience a unique combination of a resort stay in one of California's most beautiful cities, along with a cycling getaway, and Via Seminars marital workshops.
Synaptic Cycles will be responsible for planning and implementing the 5 days of riding. The first day will involve a shake-down ride to dial-in bike fit while we make our way to the Coronado Ferry Terminal and back. Day 2 will feature a ride to the Cabrillo National Monument in Point Loma, with an incredible 360 degree view of San Diego. Days 3-5 will take us on some challenging rides in the North and East County areas of San Diego. During these rides, you will get a taste of just about everything San Diego County has to offer, from incredible coastal views to desert vistas. In all, we will likely cover 150-200 miles over the course of the week, should you choose to ride every day.
This promises to be an incredible experience for couples that take part. We look forward to providing the best possible cycling experience for the couples during their stay!